Microsoft PowerPoint 2010 Download

EUR 22,95

incl. 19 % VAT excl. shipping costs

delivery time 12 - 24 hours

Available, enough stock

---
---

Product.Nr. SH0023
---
---
product description
Microsoft PowerPoint 2010 Download
Manufacturer No: 079-05565
Product information
Buy a downloadable version of Microsoft PowerPoint 2010 here
Information on the online-mlk-version of PowerPoint 2010, German:
You are buying a license for the Office product Microsoft Powerpoint 2010 as a volume license key.
Details:
Name: Microsoft Excel PowerPoint, German
Type: Office software
Category: Fully valid license, volume license key
Included programs:
Microsoft PowerPoint 2010 (presentation)
System requirements:
CPU Speed: CPU@500 MHz or higher
RAM: 256 MB or higher
OS: Windows XP (SP3, 32-bit), Windows Server 2003 SP2 (32-bit), Windows Vista (SP1, 32-bit/64-bit), Windows Server 2008 (SP1, 32-bit/64-bit), Windows 7 (SP1, 32-bit/64-bit), Windows 8 (SP1, 32-bit/64-bit)
HDD: 3,5 GB free disk space
Further information: The actual requirements and product utilities depend on your personal system configuration and may vary from case to case. Please feel free to reach our customer service staff for any help during installation.
General features:
Language: German
Number of keys: 1
Additional information:
Microsoft Office 2010 gives you a wide range of new possibilities to do your best at work, home or school. Impress and inspire your audience with a visually supported presentation of your ideas. You can work from anywhere in this world with different people and have success to your data at all times. Microsoft Office 2010 gives you the needed overview while getting results and sticking to your schedule.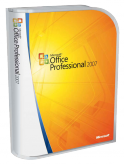 5.00000 Review(s)
There are no reviews for this product