Microsoft Visio 2010 Professional Download

EUR 74,95

incl. 19 % VAT excl. shipping costs

delivery time 12 - 24 hours

Available, enough stock

---
---

Product.Nr. SH0012
---
---
product description
Microsoft Visio 2010 Professional Download
Manufacturer No: D87-01246
Product information
Buy a downloadable version of Microsoft Visio 2010 Professional here!
You are buying a license for the Office product Microsoft Visio 2010 Professional as a volume license key.
Details:
Name: Microsoft Visio 2010 Professional, German
Type: Office software
Category: Fully valid license, volume license key
Included programs:
Microsoft Visio 2010 Professional (vector graphics)
System requirements:
CPU Speed: CPU@500 MHz or higher
RAM: 256 MB or higher
OS: Windows XP (SP3, 32-Bit), Windows Vista (SP1), Windows Server 2003 R2 (MSXML 6.0), Windows Server 2008, Windows 7, Windows 8
HDD: 2 GB free disk space
Further information: To guarantee you a smooth and perfect installation for full functionality our customer service staff will be happy to guide you through the whole process of downloading, installing and using your Microsoft Visio 2010.
Why you should buy Microsoft Visio 2010:
Using the vector tools of Microsoft Visio 2010 makes it possible to operate on a complex level of diagramming. Thanks to the integration of dynamic and data-driven visual content you have new ways of publishing these live to your staff-related intranet or the internet. Be it an organizational chart, a network diagram or a business process – new tools and the smart interface in Microsoft Visio 2010 makes it almost child's play to manage your diagrams, make them impressive and vivid.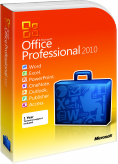 0.00000 Review(s)
There are no reviews for this product